Make traveling with your firearms effortless!
When you travel with firearms, TSA takes things very seriously — you can't just throw your gun into a carry-on and be set. If you've never flown with a gun before you may be adamant in following all the safety precautions and rules, but once you know the proper procedures and protocols, traveling with firearms is pretty painless. 
Are you ready for the fall hunting season or do you need to get in some more practice rounds? Liberty Firearms Institute in Northern Colorado is your premier destination for indoor shooting. Learn all about traveling with your firearm in today's post. 
What You Need To Know For Flying With Firearms
Airports, in general, can be a frustrating place — between long security lines and stringent security regulations — you may be wary of flying with your firearms, but, it doesn't have to be this way. 
If you're meeting up for a weekend hunting trip or flying in for a bachelor party at a shooting range, you don't have to leave your gun behind, but you do need to know a few important rules. 
Do Not Pack Your Firearm In Your Carry-on
This probably comes as no surprise, but you can't have a firearm packed in your carry-on, it must be checked in your luggage. It's also important to declare any present firearms when you check your bag, to ensure clear communication between you and the airline. 
Firearms need to be unloaded and stored in a locked, hard-sided case. It's always important before you fly, to check with the specific airline you're flying with to confirm that they allow firearms in checked bags.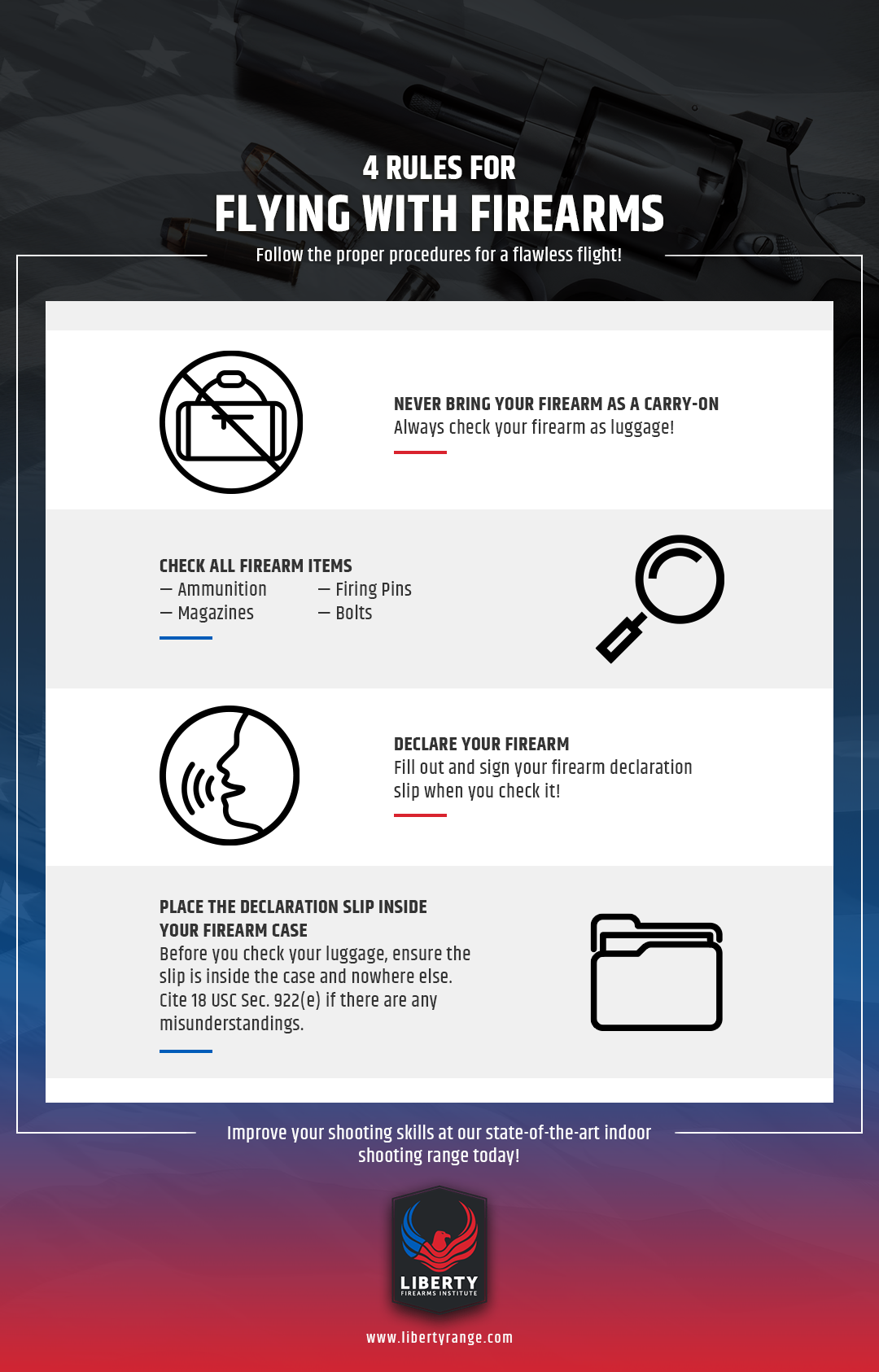 Do Not Pack Other Firearm Items In Your Carry-on
A good rule to follow is if you have parts to your gun you want to bring, don't pack them in your carry-on. Gun items including magazines, firing pins, and bolts need to be checked alongside your gun. 
Ammunition is not allowed in your carry-on but can be checked baggage. The ammunition you do check cannot weigh over 11 pounds and must be stored securely in its original packaging in a safe container made specifically for ammunition. 
Really the only gun part that is allowed in your carry-on bag is your scope. 
Declaring Your Firearm
When you check your gun, you have to declare all the guns that are in your luggage, along with all of the ammunition — you do this every time you travel, even if you switch airlines at some point in your trip. 
There is an actual firearm declaration slip that you must fill out and sign. What does this mean? It means that when you check your luggage (you can only declare a firearm inside, not at a curbside kiosk), tell the airline agent you have a firearm to declare. They'll give you the slip and then verify that you've packed everything correctly. 
Federal law then requires you to place the card inside your case after signing it — check that the agent doesn't allow for it to be stored anywhere else. You can cite 18 USC Sec. 922(e) if there are any misunderstandings. 
Use Your Own Lock
It's important when you do lock your firearm to be transported in your checked luggage, to use your own lock that is not TSA-approved. Seems counterintuitive, right? The logic behind this is that any TSA-approved lock can be opened by a master key which can be bad for security, and it's actually not recommended to use one for firearm storage. 
You should always have the key on you and there should never be a copy of it in your checked bag.   
Invest In A Quality Travel Case
If you've ever seen luggage being handled, you know they're not gentle — your bag is tossed around and could be subject to being dropped and sliding around in flight. So, if you have a gun that you don't want to be damaged, give yourself peace of mind and invest in a high-quality gun case. Not only can these protect your firearm, but they may also prevent theft if you choose ones that don't resemble your typical gun case.   
Are You Ready For Travel?
At the end of the day, it's integral to understand all the relevant codes, documentation, and policies that are listed on the TSA's website, and it never hurts to have all of this information printed in case you need to reference it. This means checking your gun and ammunition in your luggage, and ensuring that it's properly stored.  
Declaring your firearm should be a quick and easy process, but always allow yourself additional time for this.
There is more to this conversation, so stay tuned to part two!
For more information about gun safety or firearm rules and regulations, you can always reach out to us at Liberty Firearms Institute! Connect with us today!